You can enable and configure your extensions from the Extensions Manager interface. Some features, like Bulk Update and IO, have been installed with the GlobalSearch Extensions tray application and are simply turned on and off by toggling the slider to the right of the feature. Others, like PDF Print, Scan, and File XChange, will download via a web connection and then install local components when you click the slider. Some extensions may require you to change the settings for your individual use.
Install Extensions
Click the Extensions ( ) icon in the top-right side of the GlobalSearch toolbar or double-click the Extensions ( ) icon in your Windows system tray to open the Extensions Manager in your browser.


Click the toggle switch for an extension to enable / install the specific feature.


To uninstall, click the toggle switch again.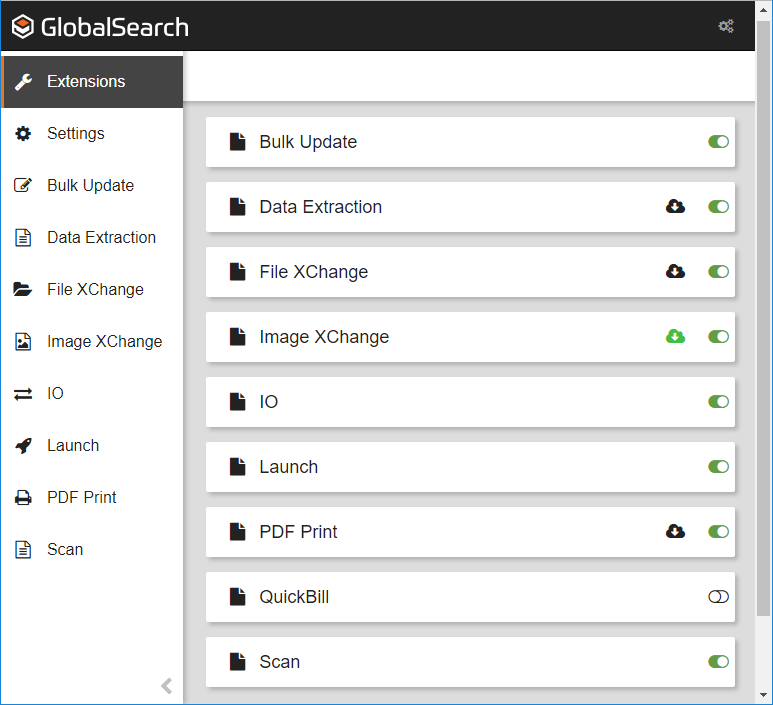 Update Extensions
When the GlobalSearch Extensions tray application starts up, it will automatically check for any updates to your installed extensions, provided that: they are supported by your version of GlobalSearch; that your authentication credentials are confirmed; and that you have internet access. GlobalSearch Extensions will check again every 12 hours, once started. If an upgrade is found, an upgrade message will appear in the bottom right-hand corner of your screen, near your Windows® system tray. Click the message to open the Extensions Manager.
When you open Extensions Manager, you may see an upgrade icon next to the Install toggle switch. Use this to apply any available updates to your extensions:
Check for Updates – Click the Check for Updates (

) icon to check the GlobalSearch server for available updates to the extension. If one is available, you will see information about the update. Click Upgrade Extension. Or, if the extension is up to date, at the prompt, click Close.


Get Updates – The green Update Available (

) icon indicates that an update is available and ready for you. Click the icon and, at the prompt, click Upgrade Extension. If the extension is running, it will close (including any PDF Print processes, File XChange drives, and the File XChange Manager) and then install the update.

Install and Configure Your Extensions