Image XChange allows you run a search using data displayed in any application, enabling quick access to your GlobalSearch documents directly from the applications your users work in the most. Once initiated, Image XChange returns any matching documents in a new browser tab, ready for you to view and edit. Image XChange is in a class of applications often referred to as an "Image Enabling" tool. What makes it unique is its ability to image-enable any application without the need for costly custom development or third-party tools.
Common use cases for Image XChange might be: running a search for an invoice or P.O. from your accounting software; a Job ID from a client email in any mail application; or the name of an account on a web page like Microsoft® Dynamics or Salesforce.com®.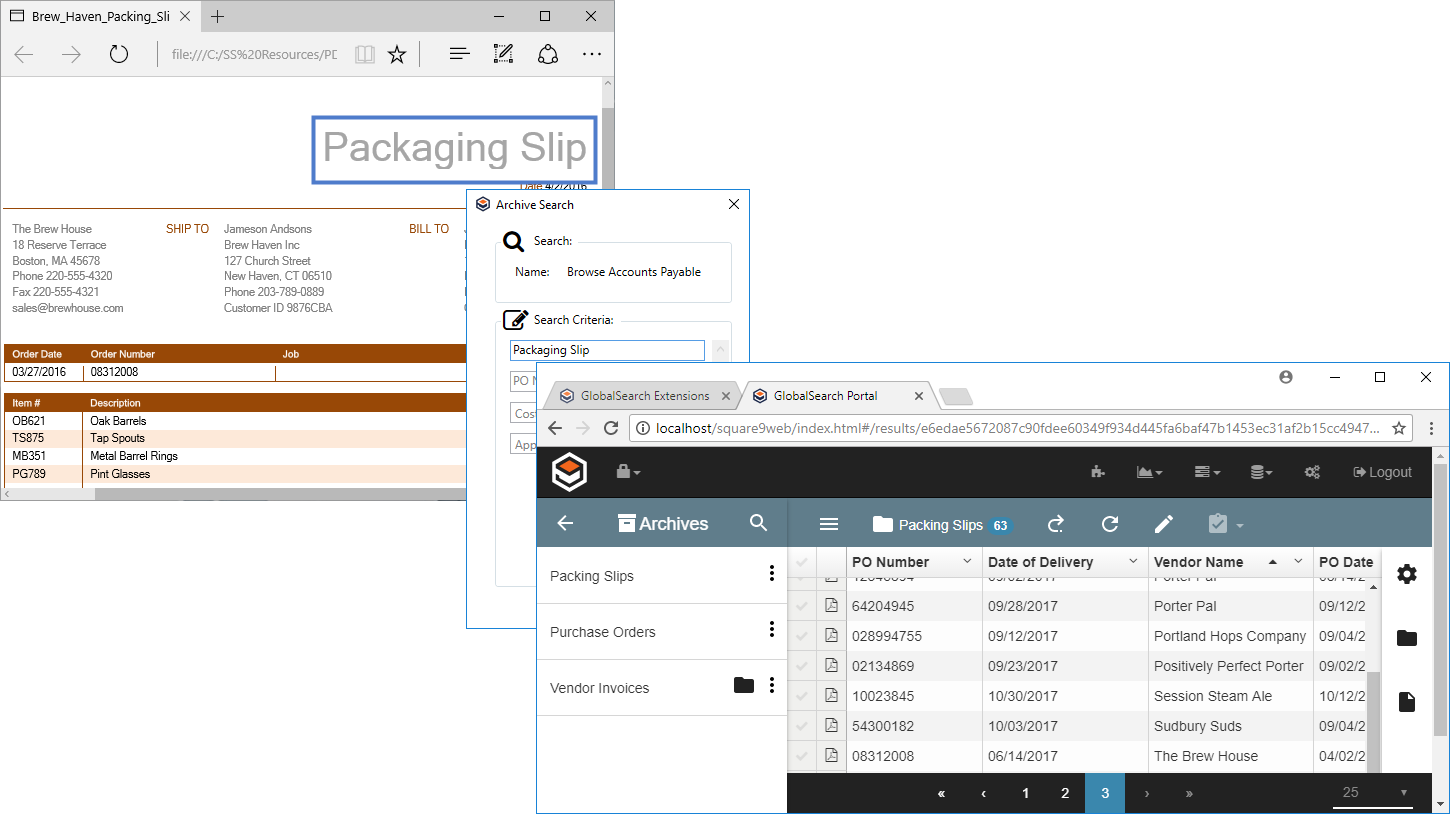 Searching With Image XChange
Image XChange offers three unique ways to bring document lookup capability to your line-of-business applications.
Run Search
With the Run Search option, you point-and-click a word or select a group of consecutive words on screen. Those words are automatically provided to GlobalSearch as search criteria. The Search is run and the results are displayed in a new browser tab.
Show Search
Similar to Run Search, the Show Search option allows you to select one or more words on screen. A search prompt is displayed with the selected text. From there, you can edit the text or enter additional search criteria. Select search criteria from a list, manually key it in, or continue using your mouse to select text elements on screen. When all necessary search criteria has been entered in the search prompt, you can run the Search. Results are displayed in a new browser tab.
Prompt Only
With the Prompt Only option, no attempt is made to extract text on screen. Prompt Only provides a quick-and-easy way to open a search prompt for documents, from anywhere and from any application. Prompt Only is extended by allowing point-and-click text capture or, like the Show Search option, search criteria may be entered manually or selected from items in a list.
Selecting Words and Phrases
Two different methods are available to extract text from your screen: Word Capture and Area Capture.
Word Capture
Place your mouse cursor over a single word and press a hotkey defined for Word Capture. Image XChange will display a Capture Box around the area of the screen from which text will be analyzed. Only the word under the mouse cursor will be used. The Box gives you a visual cue of the area being inspected, which is helpful when performing extraction on screens where text may be of various sizes. The text you intend to use must fit within the Box. The size of the Capture Box may be adjusted in the Image XChange Settings, if the default option is not sufficient for your needs.
Area Capture
Press a hotkey defined for Area Capture and use the mouse to draw a Capture Box around a word or words on the screen. Choose Area Capture when you want to search for more than a single word.