Troubleshooting Image XChange
No License Available Message
Issue:
When right-clicking the Image XChange icon in the system tray, you see a message stating "No License Available."
Resolution:
Image XChange requires a GlobalSearch client license on startup to gather details about your system. Once that information is received, the license is released. If you see this message, no GlobalSearch license was available when Image XChange started. Click the message text in the context menu and the application will reinitialize.
Using Image XChange Hotkeys Causes Unexpected Behaviors
Issue:
When you use the Word Capture or Area Capture hotkeys, Image XChange is not executed and something else happens.
Resolution:
Hotkeys can conflict with other applications on your machine. For example, in Microsoft Word®, Control+S is the hotkey for Save. If Image XChange was using Control+S as a hotkey, you can expect conflicts. For this reason, Image XChange allows you to configure the hotkeys used on a per-user basis. Configure hotkeys for users that do not conflict with their line-of-business and productivity applications when Image XChange will be interacting with them.
Image XChange Is Not Listed
Issue:
Image XChange does not show in the list of available Extensions.
Resolution:
Image XChange requires GlobalSearch version 4.5 or greater. For installations prior to version 4.5, Image XChange will not display in the list of available extensions. Upgrade your GlobalSearch installation to 4.5 to enable the Image XChange feature for your users.
Image XChange Can Not Be Enabled
Issue:
You see Image XChange in the list of available Extensions but you are unable to enable the feature.
Resolution:
Image XChange is a licensed feature. Your GlobalSearch installation must be licensed for the feature before it can be turned on for any users. Contact your Square 9 dealer or RSD for details on adding Image XChange to your installation.
Searches Not Showing
Issue:
In the list of Searches available in the My Image XChange Searches section of the Searches Settings, the desired Search is not available.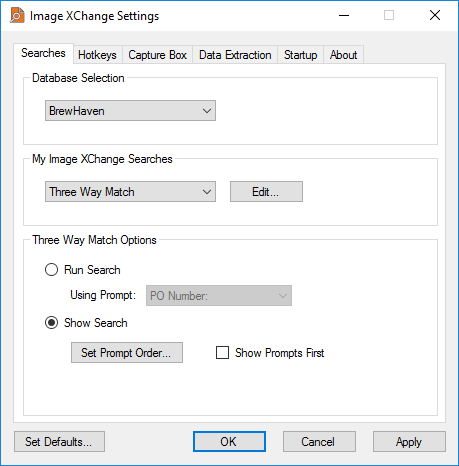 Resolution:
Either the Search is not configured to be an Image XChange Search, or the user configured for GlobalSearch Extensions does not have permissions to the Search.
Image XChange Hotkeys Are Not Working
Issue:
Image XChange is running in the system tray, but using the hotkeys, text is not extract, the search prompt doesn't show, and no search is run.
Resolution:
Image XChange key binding is not respected if the application that has focus is running in elevated mode. If you need to use Image XChange with applications that you normally run in elevated mode, you must also run Image XChange in elevated mode.