Return to Work administrators are encouraged to tailor the setup for their business. A number of options are available to make the system your own. Click the Manage Setup button to enter the configuration page.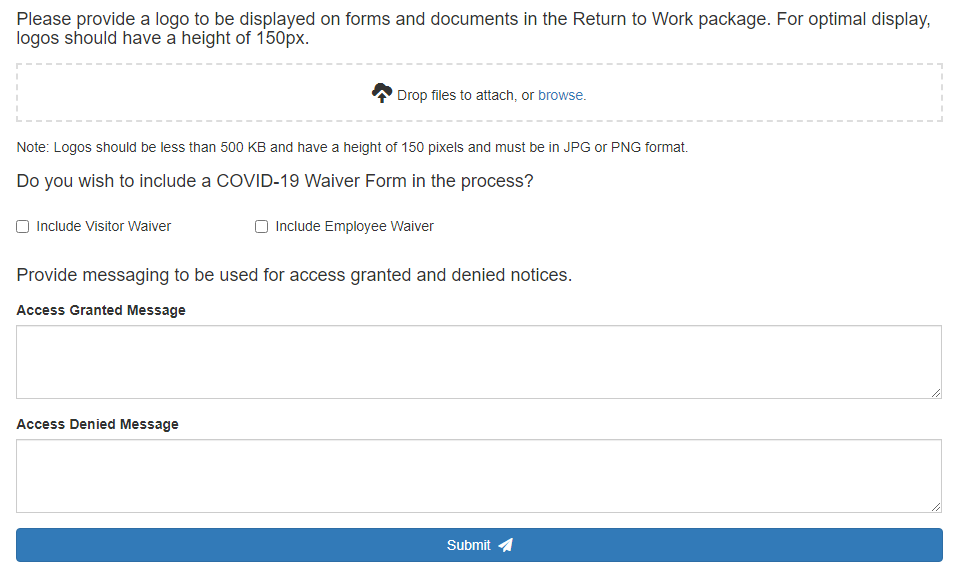 Setup Options
Provide a logo, in JPG or PNG format. Files must be less than 500KB, but should be optimized to be as small as possible. Since your forms will load on a variety of devices, many of which are assumed to be mobile on a cellular connection, it's important to minimize the amount of data sent to those devices.
Decide whether or not a waiver should be included in your process. Waivers may be required for Visitors, Employees, or both. Additionally, the waiver language may be different for Visitors and Employees.
Access Granted and Access Denied messaging tailored to the business should be provided. This is the messaging users will see when the complete the form and submit it. A customer may want to include specific instructions on how to proceed, or a phone number / email to reference in the event of denied entry.