Capture QR is a robust application built on the GlobalForms 10 platform, which greatly increases usability and reduces maintenance associated with traditional barcode cover sheets. A minimum, barcode coversheet setup normally requires a licensed version of some PDF editing utility, in addition to technical knowledge on how to build out cover sheet forms. Capture QR is a free service offered to all Square 9 customers, where capture cover sheets can be setup in minutes and made available to users anywhere in the world in real time. Easy to use and easy to deploy, Capture QR also affords administrators the ability to be certain that the current version of coversheet is being used every time, bringing added reliability to the capture process.
Getting Started
To setup cover sheets in Capture QR, sign up for an account here. Only users that need to create and manage coversheets need an account. Users filling out and printing coversheets will not need to log in.
By providing some basic account information and accepting the terms and conditions of use, the account provisioning process will begin.


| | |
| --- | --- |
| Sign Up - Step 1 | Sign Up - Step 2 |
Once signed up, the Square 9 fulfillment team will verify the email address and company provided are associated with an active support agreement. Once approved, an email is sent with instructions on completing the sign up process.
Capture QR Home
The home page for the Capture QR application serves as a dashboard for accessing any forms created in the account. From the home page, new cover sheets may be created, new lists may be created, and existing coversheets and lists may be edited.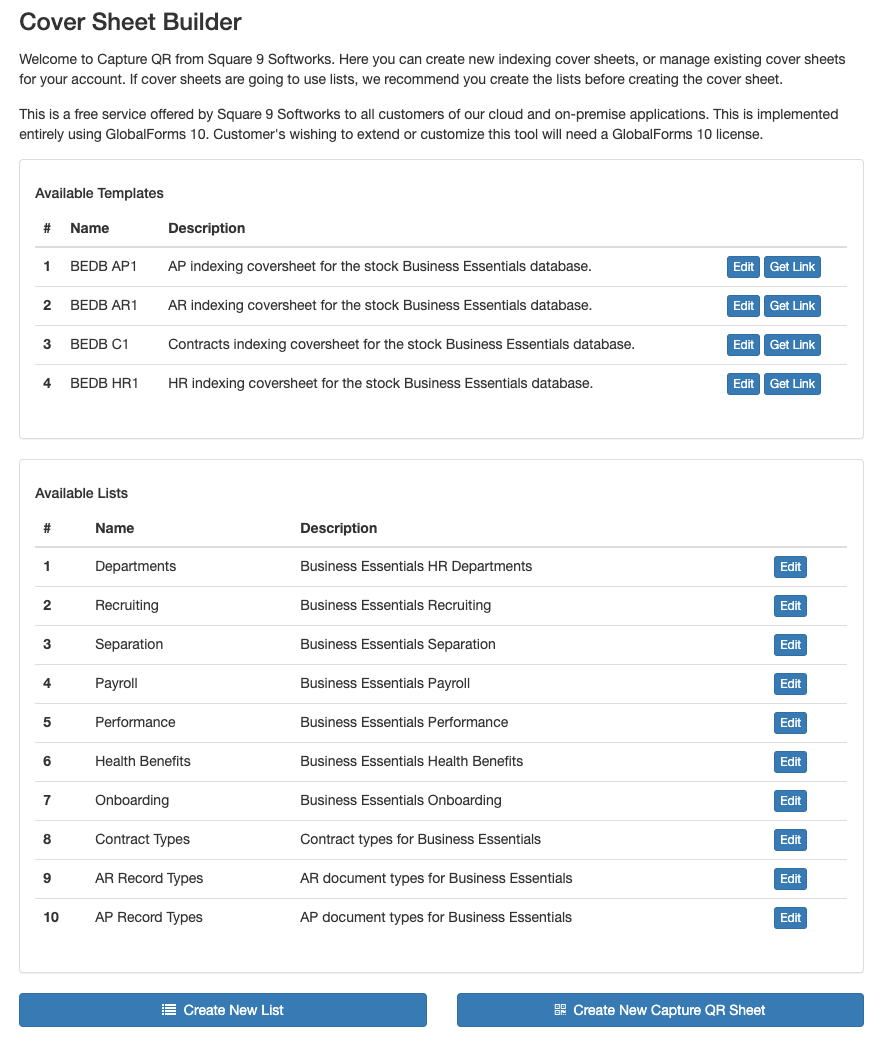 To create new cover sheet, click the Create New Capture QR Sheet button.
To edit an existing coversheet, click the Edit button next to the description of the cover sheet to be modified. Remember that changes to existing coversheets might impact the capture process.
Use lists to control data entry to specific set of data items. Lists should be created before creating the field on a cover sheet. Click Create New List to setup a new list.
To edit a list, click the Edit button next to the description of the list to be modified. Note that changes to list items may impact the capture or indexing process.
Sharing Links
Links to Capture QR indexing cover sheets may be shared publicly. Only users with the unique link will be able to access it. To generate the link, click the Get Link button next to the description of the cover sheet to be shared. A new browser tab will be opened. Copy the URL in the new tab. This URL may be shared via email, saved as a bookmark, or may be added to a company intranet to simplify access to indexing coversheets.