How to Configure the Transform AI Demo
For those looking to demonstrate Transform AI, this workflow (attached at the end of this page) will aid you in importing emails from the Transform AI Platform, allowing you to demonstrate the validation interface of GlobalCapture in your environments. Please read these instructions completely.
Supported Versions:
You must be running GlobalCapture 2.4.0.118

If you are not running this version, you can request the latest hotfix from Square 9 fulfillment.
Instructions:
Setup a new email account for importing invoices from the Transform AI Form.

This guide will assume you are using a Google Workspace or Gmail account.

Using quick start, create a Business Essentials database containing the Accounts Payable archive.

If one already exists, you may use that today.

Import the GlobalCapture workflow that accompanies these instructions.

When prompted, select your release archive as your Accounts Payable in the Business Essentials database you created.

Open GlobalCapture and open the workflow you imported, it is labeled "Import - Transform AI Invoices"

Configure the Import node as outlined here to point to your Google Workspace or Gmail account.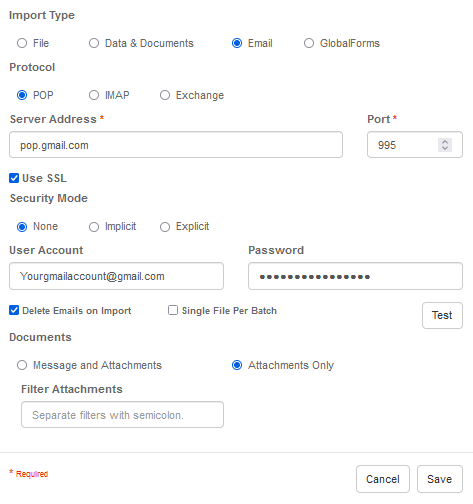 Running the Demonstration:
Open the Transform AI Form, and upload any invoices you would like to process.

You will be asked to sign in to the form, if you do not have credentials, you can request them from your Square 9 Account Manager.

Specify the release email as your email account you setup for this demo.

Click Submit.
A few notes on running your demo:
All documents will hit validation to allow you to show the results.

This workflow uses a Classification Node to overwrite Transform AI results using logic created with a template (created through Rapid Adapt or the Template Designer).

The more invoices you upload at a given time, the longer it will take to process. Its recommended that these samples be sent ahead of a demonstration.

If a document cannot be processed by Transform AI, because it doesn't meet some of the requirements of the Transform AI upload form, it will be sent for manual indexing or template extraction.

An example of this is you upload a document that is greater than 5 pages for processing, that page will be emailed back, but it will not be extracted.

It is recommended that you show the validation screen using a user secured directly to the Validation node, ie. A BPM user. This will allow you to only show fields relevant to your user.