Managing Accounts Receivable
Accounts Receivable Use Cases
The ability to manage your customers' orders and the related documents is essential both to your Customer Service and cash flow. In the event the original data is transposed as it's entered into your ordering system, a quick reference of the original Purchase Order is just a few clicks away.
One of the most common use cases within Accounts Payable is providing Proof of Delivery to a customer who is disputing a transaction. This can result in a tedious paper chase for a copy of the signed delivery ticket. With GlobalSearch C2 for Business Essentials, a quick search and email of the resulting document allows you to resolve any disputed transaction quickly so that your payments keep flowing in.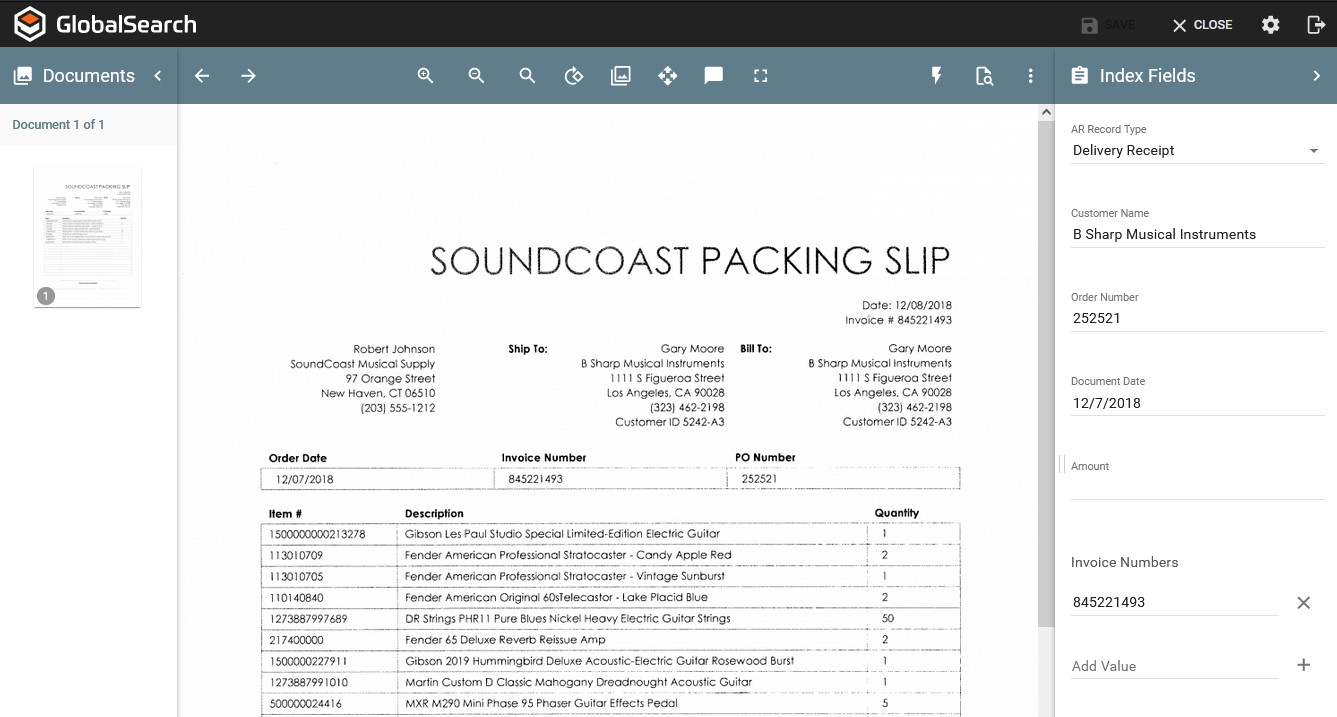 Accounts Receivable Filing Structure
Accounts Receivable documents are filed in GlobalSearch C2 for Business Essentials using the following Index Fields. These allow you to catalog your records in a standardized manner for easy retrieval.
Customer Name - This is a free-form field for entering the name of your customer associated with the record.

AR Record Type - Accounts Receivable Records fall into four categories which are presented in a Pick List* for a standardized naming convention. The four categories are: Order, Delivery Receipt, Payment and Invoices. When a category is selected, the document will automatically be presented under the associated tab in the main Search Result interface.

Document Date - This date field is formatted for MM/DD/YYYY and represents the date the document was issued.

Order Number - The Order Number field is a free-form field for alphanumeric data. With the exception of the Purchase Order, your Order number is referenced on many of the documents being filed. Use this field to cross reference other documents related to this transaction.

PO Number - The PO (Purchase Order) Number field is a free-form field for alphanumeric data. The Purchase Order number is the value that typically ties the documents to each other. It's a great practice to capture this on every AR document being filed.

Amount - This is a numeric field formatted for US Currency**. Capturing the amount of the transaction is another strong practice so you can quickly recognize a transaction by the amount you are searching for.

Invoice Number - The Invoice Number field is a multi-value field that allows you to enter multiple invoice numbers, which is required when you split an order into multiple deliveries, which, in turn, generates multiple invoices.
* The list of AR Record Types can be easily modified to fit the needs of your organization. Click here to learn more about editing Picklists.
Accounts Receivable Searches
Below is a list of the searches which have been specifically designed for the Accounts Receivable practice area along with common use case scenarios for each.
AR Records to Be Indexed - By selecting this search, the system will return all documents that are missing key data fields like Vendor Name. This is most commonly used for finding documents that have been scanned but have not yet been indexed.

Accounts Receivable By Type - Like in the Accounts Payable Archive, searching for Accounts Receivable documents by type allows you to view all of the records associated with a transaction and have them presented in a "tabbed" interface that separates them into document types. Natively these types include your customers' Orders, the invoice you sent the customer, your Signed Delivery Receipts and the Payments received against these orders.

Orders By Customer - To find all of the transactions for a customer, simply enter part or all of their company name. A complete list of all Accounts Receivable related documents will appear which can be sorted to your preference. This Search does not present the documents in a tabbed interface to allow for updates or bulk edits to the index data.

Orders In The Last 30 Days - For a quick view of all of the Orders received in the last 30 days, simply run this Search. As a "static" Search, you are not required to enter any information. GlobalSearch C2 will simply look for any orders with a date in the last 30 days and return them to the user.