Install CTS DirectConnect
To install the CTS DirectConnect Utility, run the installation package CTS DirectConnect_XXX.msi. XXX will represent the version of the installation package you are using. In most cases, default installation options may be used.
To use the CTS DirectConnect tool, a special Import node is required. This node is available by default for cloud deployments of GlobalCapture CTS. For environments outside of Square 9's cloud, download the node here and upload it to your installation's node library.
If using CTS DirectConnect outside of Square 9's cloud, remember the utility will need to be able to access your GlobalCapture environment. If configuring over the public internet, you must configure VPN connectivity, or expose a FQDN with SSL enabled to ensure a secure connection.
If desired, you may change the installation path.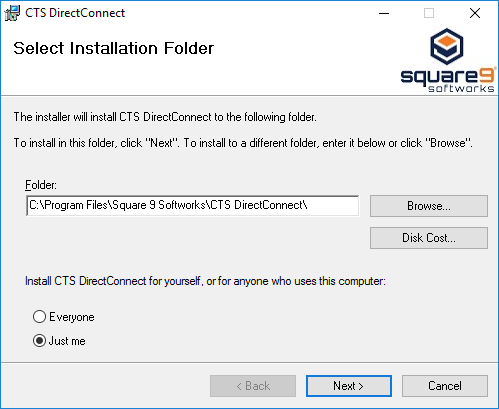 On the settings screen, provide the details for your GlobalCapture environment.
The GlobalCapture API URL, Username, and Password would be provided in the original fulfillment email for your GlobalCapture environment. The URL will generally look like:
"https://capture-yourcompany.mysquare9.com/square9captureapi".
For demo installations, you may use "http://localhost/square9captureapi". Note that for demo or on-premise deployments, GlobalCapture 2.3.0.110 or greater is required.
Once installed, a new Windows Service for GlobalCapture CTS DirectConnect will be available and should be set to start automatically.