Cloud Transformation Services
GlobalCapture Cloud Transformation Services (CTS), a powerful end-to-end secure platform for digital transformation in the cloud. With GlobalCapture Cloud Transformation Services, users have a complete cloud solution to capture, archive and automate business processes. CTS offers all the power and flexibility of GlobalCapture in a flexible and scalable cloud based offering.
CTS DirectConnect
While customers have the ability to leverage TWAIN based scanning, in addition to Web Forms and Email Import with any GlobalCapture system, customer's running capture in the cloud need special considerations for file imports from on-premise sources. CTS DirectConnect is a lightweight utility that can run in the customer's environment and allows for traditional "network folder" monitoring into the cloud.
Features of CTS DirectConnect
Requires no additional licensing. The utility is available for unlimited use for all GlobalCapture customer.
Allows for an unlimited number of workflow imports and sources. Scan from any devices to a network folder.
Install on one or more workstations or servers.
Requires no special IT configuration. The utility effortlessly bridges the local files into the cloud processing environment.
Runs as a Windows service, allowing for unattended operation.
Adding support for DirectConnect Imports
Any workflow that be will configured to import documents from a CTS DirectConnect source will need the CTS DirectConnect import node added to the workflow. Note that each workflow may contain ONLY ONE of the CTS DirectConnect import nodes. If your workflow is created with more than one node, the utility will not display the workflow for mapping.

This Import Node is available in the Nodes toolbox of all GlobalCapture CTS systems. For customers with on-premise GlobalCapture systems, the Node and the CTS DirectConnect utility may be downloaded here.
Parameters for the CTS DirectConnect Import Node are very similar to the standard import node. Note, in this import node, the workflow designer does not specify an import location. Import locations are defined on-premise, using the CTS DirectConnect utility.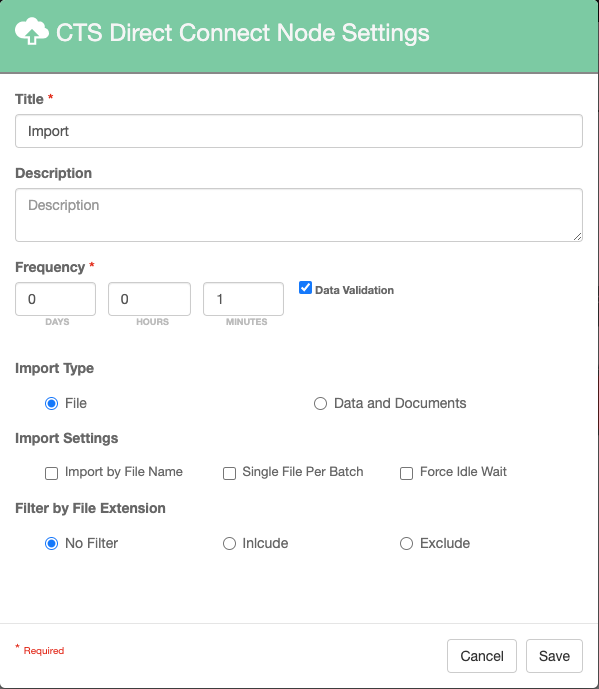 CTS DirectConnect Supports:
File Imports
CSV Imports
Import by File Name - Use a file's name as index data
Inclusion / Exclusion Rules - Only import files of specific types, or exclude the import of specific types of files
CTS DirectConnect Configuration
DirectConnect runs as a background service. Once configured, there isn't much a user needs to do or interact with. When installed, the utility does provide a management console to configure workflow sources and settings.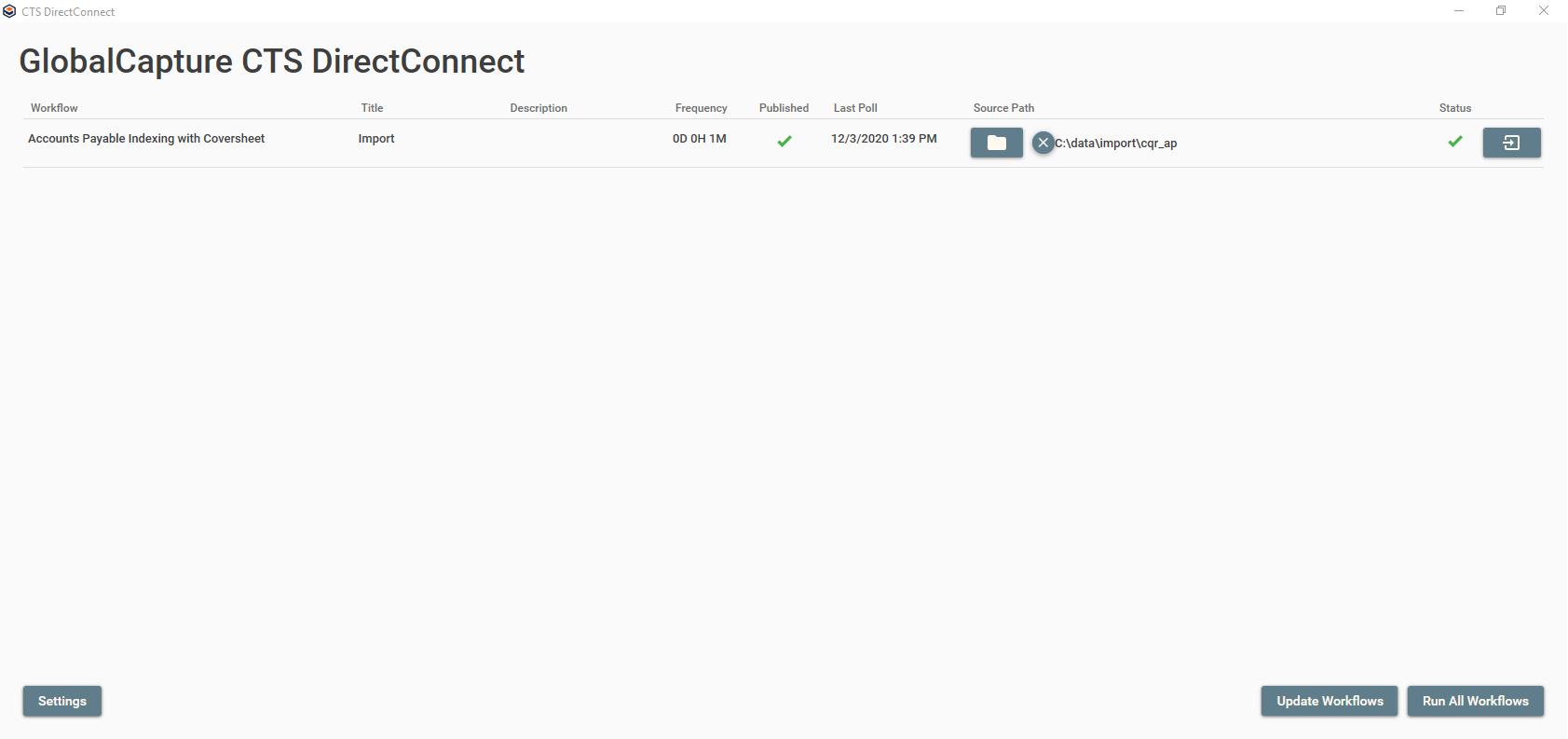 CTS DirectConnect will automatically list all workflows in the system with the CTS DirectConnect import node. Clicking the folder icon

in the Source Path column of a listed workflow will allow the user to set or change the import location for a workflow.
Consider the following:
Multiple CTS DirectConnect utilities in a single environment should not be configured to monitor the same folder.
All workflows do not need to be configured. Map as many or as few workflows as required.
New workflows added to GlobalCapture CTS will show up automatically, but would still require a mapping in CTS DirectConnect.
Connection details to the GlobalCapture system are provided at installation time, but they can be review or changed at any time by clicking the Settings

button.
Customers and Partners working on configuring workflows can force processing to start with CTS DirectConnect by either clicking the Run All Workflows button, or by clicking the Run Workflow

button of a specific workflow.