Each user accessing GlobalSearch must be assigned a license. The is done in the Database Permissions panel of User Management. With a user and a database selected, choose from the License Type drop down.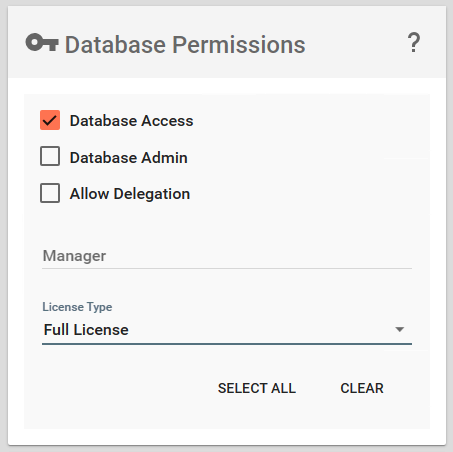 Database permissions are required for any user or group being secured to a database. Regardless of any users Group membership, any user that will log into a GlobalSearch database must be explicitly created and secured through database permissions. This is the only user permission required. With database permissions on the user, the user's group membership may be used to secure database elements like Archives and Searches.
License Options
Available license types:
Full License - This is the most common type for general users. When in doubt, choose this option. This license type allows for complete system access, within the security parameters setup by the administrator.

Web-Only Read-Only License - This license type allows for secured users to search, view, print, and export documents. Users licensed with this type can perform no functions outside of those related to finding and viewing a document.

Guest - This license type, when allocated, is available for assignment to the Guest user. Note, Guest is created by the system automatically when Guest Access is enabled. If your organization does has not purchased Guest licensing, you can assign an available Full or Read Only license to the guest user.


Unlicensed - This option is only available when securing groups to a database. Any group that will be secured to a database will first need to be secured to the database with the Unlicensed type.
License Assignment
Customers are encouraged to register their GlobalSearch environment before licensing and securing users. Cloud customers should note that the system will be provisioned to you as registered. The User Management interface indicates the licensed configuration for the system. If you do not see the license counts here, your environment is not registered, or you are not on the most current version of GlobalSearch. The number of licenses in total and what has been allocated to users should be visible in the upper left corner of the User Manager.

You may not over allocate licenses. You can only assign available licenses. In the example above, no additional full licenses may be allocated since 5 of a total of 5 licenses have been allocated to users. 1 Read-Only license is available for allocation, since 4 of 5 have been allocated.
When a system is registered, any users already created and assigned licenses will be checked against the registered license count automatically.
All groups are converted to Unlicensed.

Users are assigned licenses alphabetically, up to the number of licenses available. Users beyond the available license count will be left unlicensed.
Users and Groups need to be allocated separately when assigning licenses. You may select multiple users or multiple groups, but you may not select a mix of users and groups as these two securable objects are assigned different license types.