Contract Management Use Cases
Effectively managing a contract's lifecycle can be a challenge regardless of whether it begins as your agreement or someone else's. It starts with a clean copy or contract template that has not been altered through previous negotiations and travels through a series of revisions before reaching its final execution.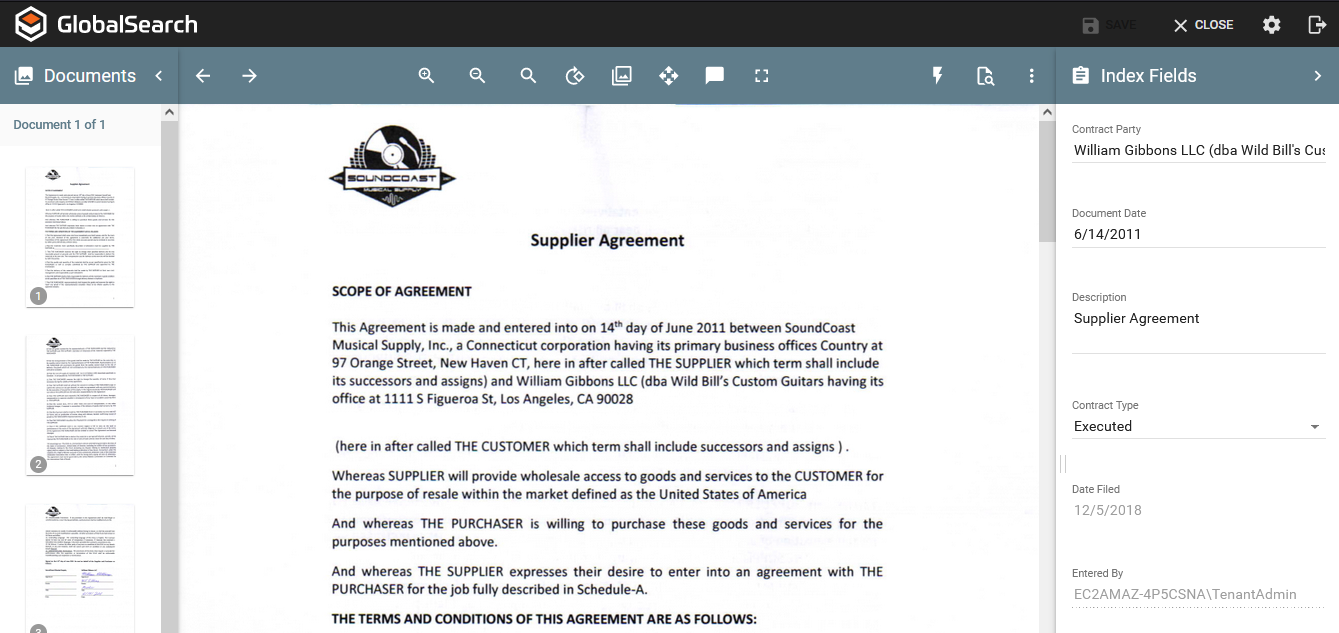 The main Contract interface presents your contracts as Templates (or Originals), Redlined Versions for contracts under negotiation and Executed copies. GlobalSearch allows you to organize and categorize your agreements in a meaningful way and then launch them to Microsoft Word for editing or print them for execution. Launching documents requires the installation of GlobalSearch Extensions, a free utility available to our user community.
By starting with a Template, you can be assured that it's a clean document and that no unwanted modifications are included at the beginning of the contract life cycle.

Redlined Versions allow you to store your agreement in a revision-controlled Archive so that the history of your negotiations is preserved. Each version can be replaced with the latest update to make sure you are always working with the correct copy.

Executed Copies are typically PDF (or TIF) copies of the final, executed Contracts that are protected against possible future alteration.
Contracts Filing Structure
Contract documents are filed in GlobalSearch C2 for Business Essentials using the following Index Fields. These allow you to catalog your records in a standardized manner for easy retrieval.
Contract Party - This is a free-form field for entering the name of the individual or organization that you are engaging in negotiations.

Document Date - This date field is formatted for MM/DD/YYYY and represents the date the document was generated for new agreements, or the date of signature for documents that have been duly executed by both parties.

Description - The Description field is a 500-character free-form field which allows for a brief description of the document, resulting in the ability to perform text searches against the information.

Contract Type - The Contract Type is a predefined Pick List field which defines the presentation of tabbed Search Results. The values for this field are: Template (for identifying source agreements), Redline (for documents currently in negotiation) and Executed (for finalized documents that have been signed).

Date Filed - This is a system-generated date field formatted for MM/DD/YYYY and identifies when this document was initially filed into the system.

Entered By - This is also a system generated field and automatically captures the user name of the individual who filed the document initially.
Contracts Search Definitions
Browse Contracts - Browsing is a flexible Search that allows you to find Contracts based on any relevant information including the contract party, document date, description or who originally saved it. The results are returned showing all documents that match your criteria in an untabbed view.

Contracts By Type - Searching contracts by type allows you to enter the contract party's name, a partial description of the agreement (e.g., Supplier Agreement) and the document date. The results for all document types are returned in a tabbed interface separated by their type.

Template Lookup - Organizations frequently struggle with managing their source documents when it comes to Contracts. This can lead to unwanted language being added to future agreements. Business Essentials allows you to store your native documents in Word format or any other word processing format, search for the needed contract template and either export or launch them into their native application for editing with the installation of GlobalSearch Extensions, a free utility available to our user community.

All Contracts - This Search allows you to search all contract records with the results returned without a "tabbed" interface for separating the document types. This is especially helpful if you intend to export the results' data to a spreadsheet for reporting purposes or in the event you wish to edit or bulk update a group of records.