Managing Accounts Payable
Accounts Payable Use Cases
The Accounts Payable Archive is home to all your purchase information including your Purchase Orders to vendors, their Packing Slips or Delivery Confirmations and finally Vendors' Invoices that have been sent to you. With GlobalSearch C2 for Business Essentials, the ability to organize this information into easily referenceable records has never been easier.
The most common use case in accounts payable is what many organizations refer to as the Three-Way Match, which includes the Purchase Order, Packing Slip and Vendor Invoice. It's the responsibility of AP to review these three documents for all purchases to ensure the following:
That what was ordered was correctly sourced (Purchase Order review)

That what was received matches what was ordered in both type and quantity (comparison of Purchase Order and Packing Slip)

That what was charged for the goods received is accurate (matching of Vendor Invoices to Purchase Order and Packing Slip)
Once this review is completed and deemed correct, the Vendor Invoice is released for payment. GlobalSearch C2 for Business Essentials provides you with invaluable tools for quickly completing the Three-Way Match and additional transaction research functions.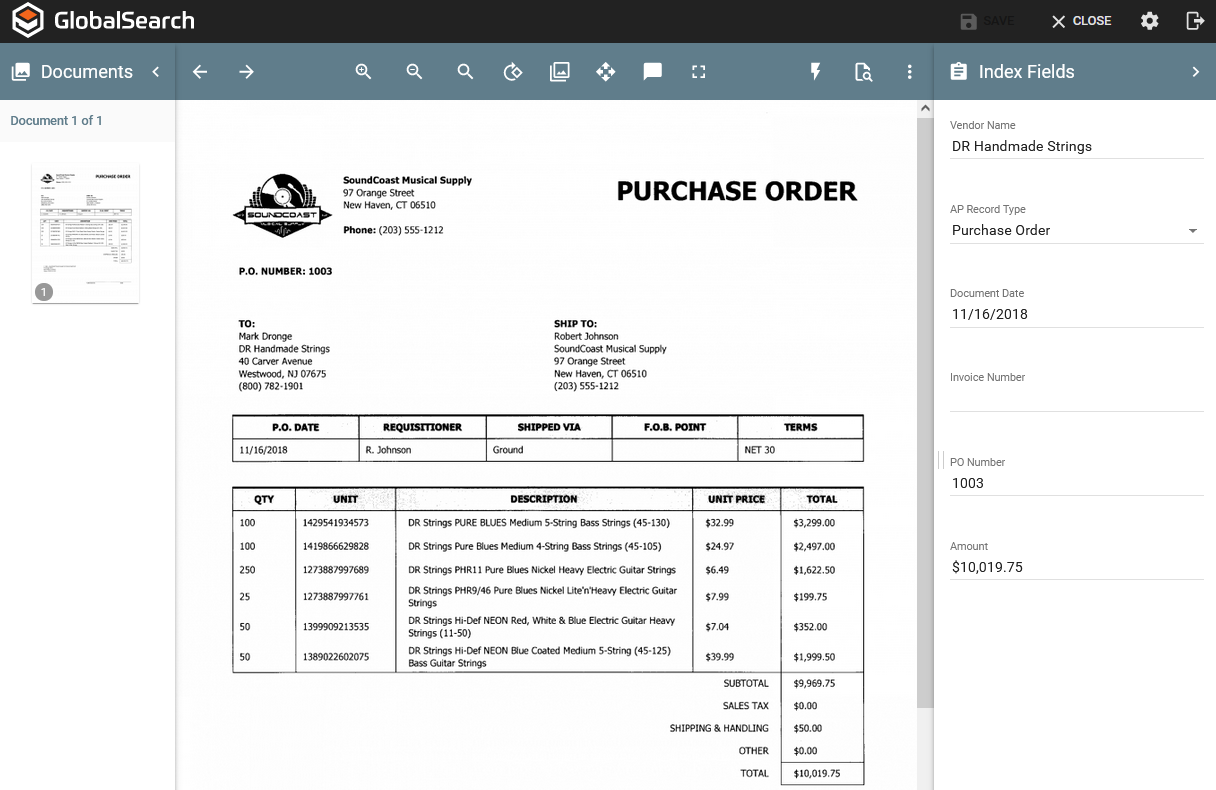 Viewing a Purchase Order in GlobalSearch C2 for Business Essentials
Accounts Payable Filing Structure
Accounts Payable documents are filed in GlobalSearch C2 for Business Essentials using the following Index Fields. These allow you to catalog your records in a standardized manner for easy retrieval.
Vendor Name - This is a free-form field for entering the name of your vendor associated with the record.

AP Record Type - Accounts Payable records fall into three categories which are presented in a Pick List* for a standardized naming convention. The three categories are: Vendor Invoice, Purchase Order and Delivery Confirmation. When a category is selected, the document will automatically be presented under the associated tab in the main Search Result interface.

Document Date - This date field is formatted for MM/DD/YYYY and represents the date the document was issued.

Invoice Number - The Invoice Number field is a free-form field for alphanumeric data. With the exception of the Purchase Order, an Invoice number is most commonly referenced on many of the documents being filed. Use this field to cross reference other documents related to this transaction.

PO Number - The PO (Purchase Order) Number field is a free-form field for alphanumeric data. The Purchase Order number is the value that typically ties the documents to each other. It's a great practice to capture this on every AP document being filed.

Amount - This is a numeric field formatted for US Currency**. Capturing the amount of the transaction is another strong practice so that you can quickly recognize a transaction by the amount you are searching for.
* The list of AP Record Types can be easily modified to fit the needs of your organization. Click here to learn more about editing Pick Lists.
** Currency formats can be changed easily for values outside of the U.S. Click here to learn more about managing fields; examples of various values can be found here.
Accounts Payable Search Definitions
Below is a list of the searches which have been specifically designed for the Accounts Payable practice area along with common use case scenarios for each.


A listing of Accounts Payable Searches
AP Records to Be Indexed - By selecting this search, the system will return all documents that are missing key data fields like Vendor Name. This is most commonly used for finding documents that have been scanned but have not yet been indexed.

All Accounts Payable - This Search allows you to search all Accounts Payable records with the results returned without a "tabbed" interface for separating the document types. This is especially helpful if you intend to export the results' data to a spreadsheet for reporting purposes or in the event you wish to edit or bulk update a group of records.
Accounts Payable By Type - Searching Accounts Payable by type provides the ability to enter a vendor name, invoice number or purchase order number and get back the corresponding records for a single or multiple related transactions. The most common use case for this Search is the ability to do what is referred to as a "Three-Way Match" where the Vendor Invoice, Packing List and Purchase Order for a transaction can be quickly verified for payment.
Invoices By Vendor - Use this Search to find all Invoices for a particular vendor. The results are natively presented with the most recently captured documents on top but can be easily sorted by any column of data.
Purchase Orders By Vendor - If you are looking to see all of the Purchase Orders issued by you to a particular vendor, this is the Search for you. Like the Invoices By Vendor Search, the results are sorted with the most recent on top but can be easily sorted.
Packing Lists By Vendor - If your organization retains Delivery Confirmations or Packing Lists to verify the receipt of ordered goods, this Search provides a quick way for finding them by the vendor's name.

Invoices In The Last 30 Days - Looking to do a quick review of Vendor Invoices received within the last 30 days? This Search delivers them to you quickly and efficiently.