Batch management includes a number of user configured options to allow users work in the manner that best serves them.
In the Batch Manager, click the Gear icon in the top right corner of the GlobalCapture toolbar to access user settings.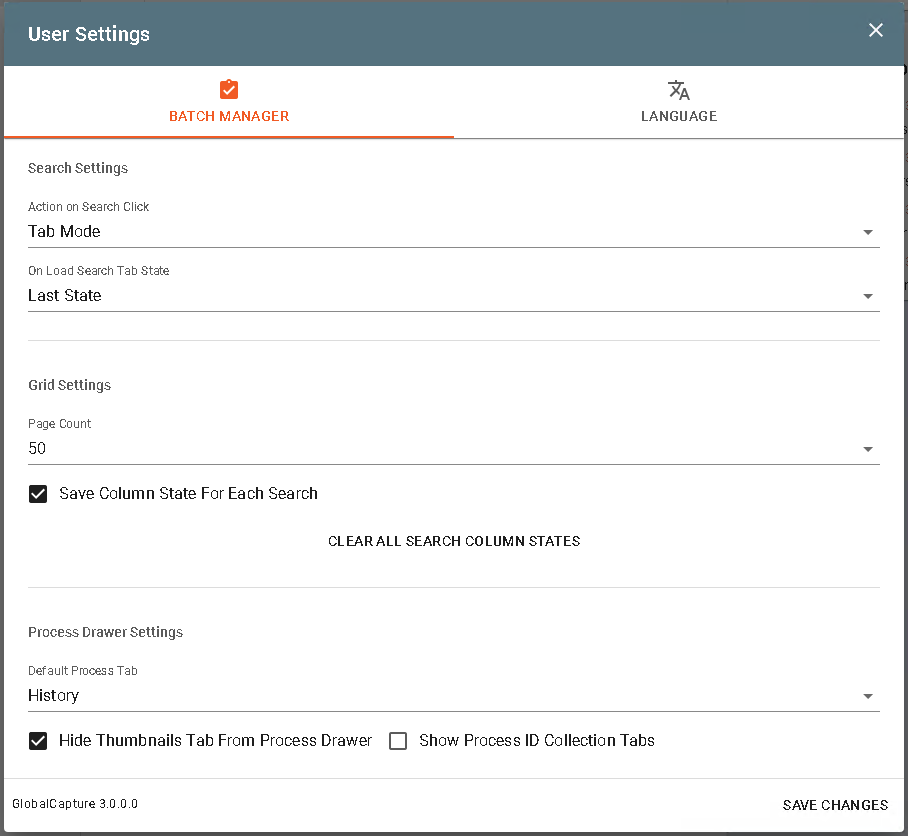 Search Settings
Action on Search Click
When a user selects a search from the Secured Search list, a number of options are available:

Tab Mode (Default) - In this view mode, optimized for performance, the first time a user selects a search it will execute. The results are cached, so subsequent returns to that search will not incur the performance cost of running the search again. The user may click the Refresh button on the top of the search result grid to refresh the results as needed.

Disabled - With this option, when a user selects a search, no changes occur.

Always Run New Search - In some cases, a user may need fresh results every time a search is clicked. While this can be less performant, users who prefer this behavior can enable it here.

Open Search Dialog - Prompt the user for criteria any time a Search is selected.

On Load Search Tab State
Search Tabs (the Search Search panel on the left side of the Batch Manager) can be opened or closed on demand. Options also exist for default state when a search is selected.

Last State - Leave the panel in whatever state is was last.

Always Closed - Always close the panel when a search is selected.

Grid Settings
Page Count
Controls the default number of process records that will display on a single result page.

Save Column State For Each Search
On by default. After the initial load, user's own column settings will be saved to local storage and whenever the search loads then, it will be used.
Process Drawer Settings
Default Process Tab
The default selected tab in the process drawer can now be configured.

History (Default) - This option is default to be consistent with previous versions and will display the complete history of a selected process.

Last State - Remembers the last tab the user was on in the process drawer and will select that tab by default on the next process.

Thumbnail - Assuming thumbnail viewing is turned on.

Process Fields - The fields available to the user.

Info - A tab of processing details. Most system related properties may be found here. Note that in prior versions, an administrator would have needed to map system data into process fields as part of the workflow. If the data is for informational purposes only, that mapping effort may no longer be necessary.