Accessing the Batch Manager
Access Batch Manager in one of the following ways:
To access Batch Manger via your web browser:

A. Use the URL provided by your IT department.
The GlobalCapture home page will appear.
B. Click the GlobalCapture Validate ( ) button to go to the Batch Manager.
The number of documents waiting for validation will show in a small circle on the Validate button on the GlobalCapture home page to alert you to documents needing user action.
To access Batch Manager from the GlobalSearch web client for GlobalAction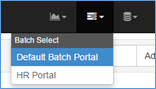 On the GlobalSearch toolbar, click Batch Select (stack of hard drives) icon and select a Batch Portal.
The Batch Manager interface will appear.
In order to use all of the Batch Manager features, make sure that the pop-up blocker feature in your browser is disabled.
To access Batch Manager from the Square 9 GlobalSearch desktop client: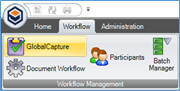 On the Workflow tab, in the Workflow Management group, click Batch Manager.
If prompted, enter your username and password in the Authentication Required dialog box and click Log In.
Select a Batch Portal.