Deploying GlobalSearch Extensions' SSL Certificate
Due to security rules enforced by all modern browsers, for GlobalSearch Extensions to operate correctly, a certificate must be installed and present on every user's workstation. The installation package will deploy the required certificate for the user, but Windows will demand the user be prompted to accept the certificate installation. Note that this is not an elevated user prompt. It's simply Windows confirming the user's intention.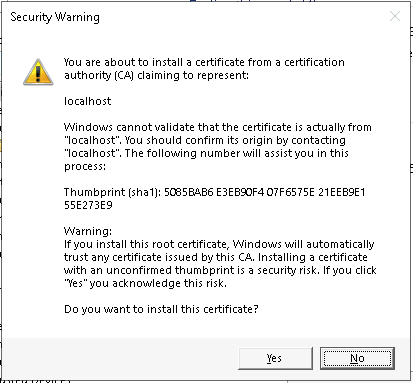 As of version 4.3.3, GlobalSearch Extensions is updated to respect a previously installed certificate. This means users installing GSE on a workstation that previously had it will not be prompted for the installation. Additionally, customers who might wish to automate the deployment of the cert may do so by installing Square 9's certificate into the machine's trusted root certificate store. Certificates can be installed into a machine's Trusted Root manually, or through automated deployment tools, including Group Policy.
To access the certificate for any automated deployment tasks, install GlobalSearch Extensions and accept the certificate Security Warning. From the icon in the Windows System Tray, right click and choose Show Location. In Windows Explorer, open the nginx\conf folder and use the localhost.crt certificate file.
You can not use your own certificate with this process.