In addition to the base set of Stamp options available to GlobalSearch users, administrators can create additional stamps for all users in the desktop and the web client.


To create a Stamp available for all users, in the Administration menu, select Administration.


In the vertical Administration menu, select System.


Click the Database toolbar and select a database from the drop-down list.


Click the Expand (down arrow) icon on the Manage Stamps bar.


Click Add Stamp.


Enter the text for the Stamp in the New Item text box.


Optionally, insert variable data into the Stamp text. Select from the following:
@Today – Add the current date.


@User – Add the logged in user's username.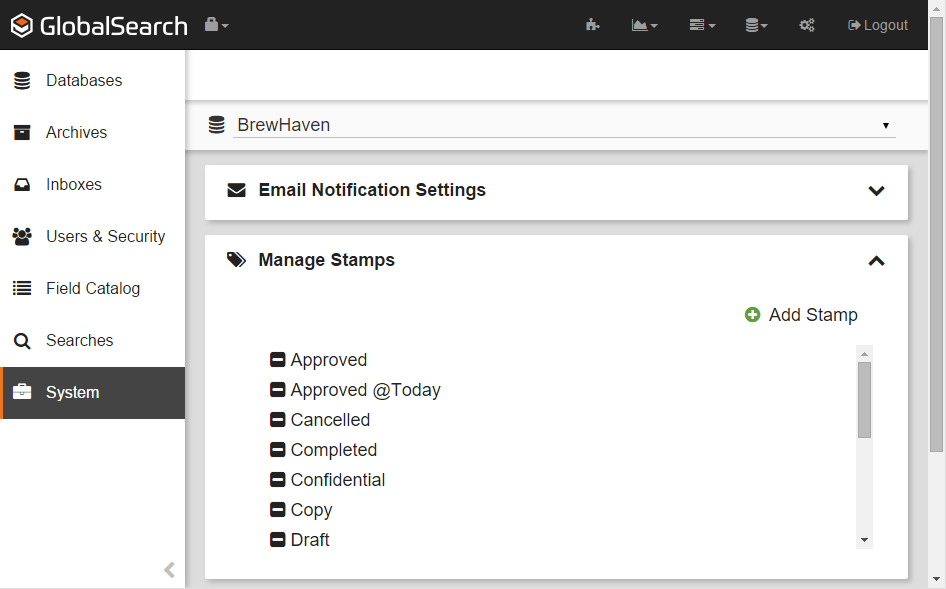 Edit Stamps
To modify a Stamp, in the Manage Stamps bar in the Administration Screen, select a Stamp by clicking its text and it will become editable.
Delete Stamps
To delete a Stamp from GlobalSearch, in Manage Stamps on the Administration Screen, click the Delete (-) button next to the selected Stamp.