SMTP Portals, available in GlobalCapture 3.0 and higher, have a special configuration card that differs from other portal types and, as such, is separately described here.
Customers upgrading from previous versions will continue to operate as normal. Existing configurations continue to work without an SMTP portal configured.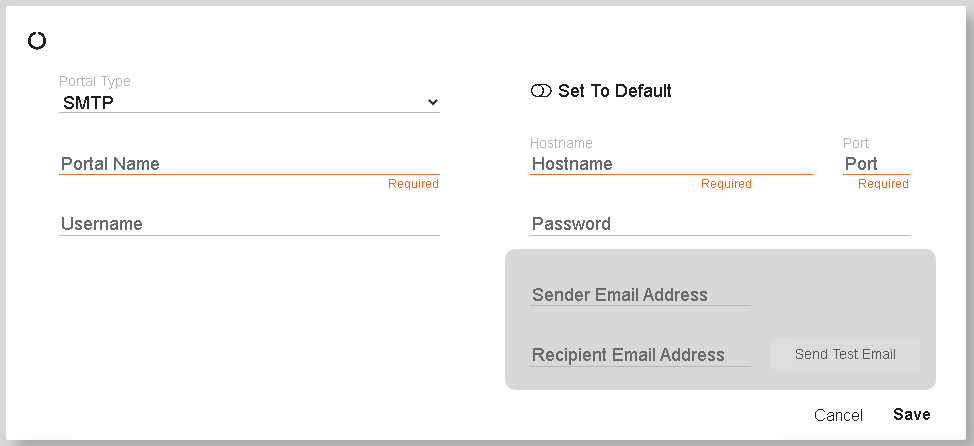 This portal type exists to configure outbound message for Action and Capture workflows.
Configuration
Provide a name in the Portal Name field. If you are interested in using multiple SMTP mail gateways, you can configure multiple portals. Be sure to name the portals appropriately so you can tell them apart when using them.

Provide the host name and port used by the SMTP server. This could be an IP address for internal servers, or could be an FQDN, if leveraging an SMTP service through a hosted email platform or SMTP mail service. Refer to your IT team, or to your mail gateway provider's documentation to understand what the values should be here.

Provide Username and Password details to authenticate if required.

Square 9 always recommends you test the connection before putting a portal into production. Leverage the test feature in the portal.

Provide a sender address.

Provide a recipient address.

Click the Send Test Email button. Note, and errors will display in the notifications area (Red Bell on error) in the GlobalCapture toolbar.

Click Save.
Usage
If you want a specific portal to be used even when one has not been defined by the workflow, select the Set To Default toggle.

A customer may want specific workflows to leverage specific portals. This is common in scenarios where departments or process might have email send quotas, or in cases where specific departments source/budget for their own specific services.

Note that some mail gateways, including Square 9's mail gateway for cloud customers, might block sending from unapproved addresses. This means that sending messages mail fail if the "From" address is not from a specific sender or domain. For example, if you are leveraging Square 9's cloud SMTP gateway, the send must always be from a @mysquare9.com domain.