Any customer who purchased GlobalCapture after August 31st, 2023 will have only a single license type for users. All users accessing GlobalCapture must have an account created and must be assigned a license. Customers are encouraged to make sure GlobalCapture is registered prior to assigning licenses to users. Failing to register before licensing users will result in lost allocations and the work will need to be performed again. Permissions to specific workflow validation queues and other securable objects can be managed with users or groups, but licenses may only be assigned to users.
Licenses can be assigned to users by selecting the Licenses option in Administration. Licenses available and assigned may be seen at the top of the page.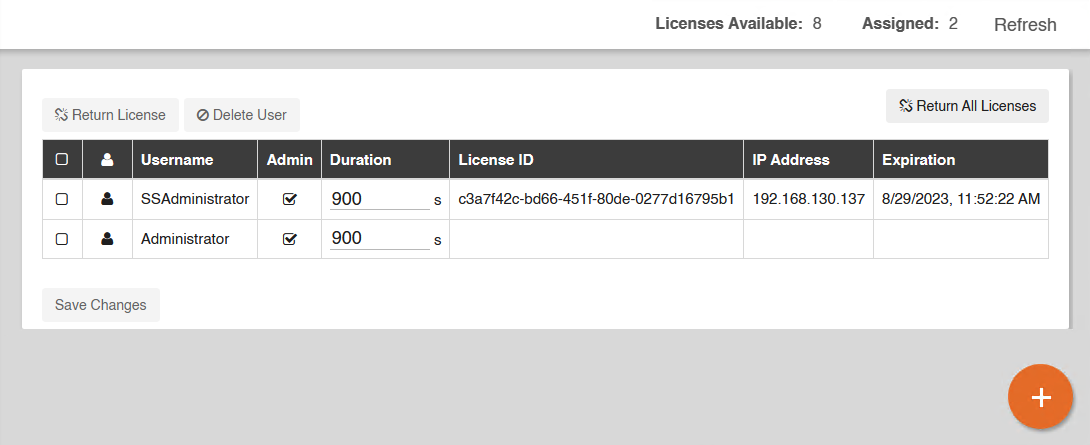 The Licenses page will show you all users that have a license allocated. If you are at the maximum number of licensed users, you may delete the license of a user that no longer requires it with the Delete button. The system will not allow you to over allocate users. In other words, you can not exceed the total license count, and you may only add licenses up to the current count of licenses available. Use the + FAB icon to add a new user license allocation.
When registering GlobalCapture for the first time, any users that are members of the SSAdmin group will be migrated automatically and assigned a license with Admin privileges up to the available license count. If your SSAdmin group has more users than licenses available, licenses will be assigned up to the number of available licenses and the rest of the users will be left without a license.
Core licenses are no longer managed from the License Management screen. Managing the cores available to an engine are now found on the Engine's card in Registration. For premise customers, you will general see a core allocation count that matches your licensed count. For cloud customers, Core licenses are not relevant and are separately controlled and managed in Square 9's infrastructure.

Timed Licensing
Beginning in GlobalCapture 2.2, licenses may be perpetual or term based. Term based licensing is tied to a contract, and the software is only accessible for the term purchased. At the end of the term, the software will stop working.
Important notes for term based licenses:
Term licenses require the software be installed on a computer/server with Internet Access. If the GlobalCapture server does not have internet access, term licenses can not be used. A perpetual license is required for any customer that might have concerns about the capture server having internet access.

At the end of the term, GlobalCapture licenses will stop processing documents. It's important to note that documents made available in GlobalCapture import locations will still be picked up and queued for processing once the term license is reactivated. If you do not want GlobalCapture to pick up files when the license term has expired, stop or disable the GlobalCapture services on the server.

The GlobalCapture server will communicate with Square 9's licensing platform once per day to ensure the license term is active. A retry interval is in place if a customer's internet access were to be compromised when the license check is made. A temporary loss of internet should not negatively impact the customer's ability to process documents.

Feature License Types
GlobalCapture is an extremely scalable, N-Tiered application. You may configure up to three processing engines on a single server, with a maximum of 12 cores shared among them. The feature licenses (features like Unstructured Data Extraction, Line Item Data Extraction, etc.) are always licensed to the server. If you intend on configured multiple GlobalCapture Engines across multiple Windows® servers, each server will require the necessary feature licenses. It is advisable that all servers share the same feature licenses to be sure your maximinzing processing potential.
Please contact your Square 9 reseller for more information and best practices for GlobalCapture licensing.